Time is always a challenge, but for Emergency Medical Service (EMS) providers, lives might be on the line. When the call comes in, it's critical for your operations team to have visibility into your fleet and ensure your ambulances and rapid response units are ready for any emergency. A good telematics system can help you deliver your services and make the most of your critical time:
Here are 5 simple ways to improve your efficiency with fleet and equipment tracking solutions: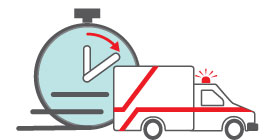 Responsiveness
When the call comes in, who will you dispatch? A good solution will tell you where your vehicles are. A great solution will tell you what those vehicles are doing so you can make better informed decisions and ultimately respond faster.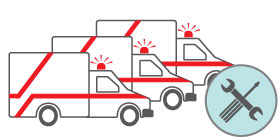 Reliability
Avoid unexpected breakdowns. Keep your vehicles service ready at all times and ensure your critical equipment is well maintained.  Use a comprehensive maintenance module to manage and track your preventative maintenance cycles.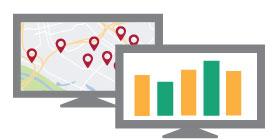 Reporting
A robust fleet and equipment tracking system will provide key reports to validate your KPIs. Investigating an incident? Your system should generate route logs, proximity reports, and other data on demand so you can easily and efficiently move through your process.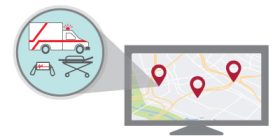 Assets All Together
Streamline your systems by using one portal to view your vehicles and the critical equipment you need, like stretchers, stair chairs, defibrillators and more.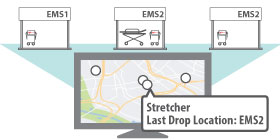 Retrieval
Don't make asset retrieval a scavenger hunt. Track down your missing equipment easily by starting where it was last dropped off. Know immediately if it's at another dispatch center and quickly coordinate to get ready for the next call.
Nero Global Tracking provides robust fleet and equipment tracking solutions to EMS organizations. With a centralized data platform, make more accurate decisions by knowing all the whereabouts of your fleet and equipment. We understand how vital these systems are to your services and will be there with you every step of the way. No dial-by-directory but real people to answer your calls, onboard and train your team, and support you as you support your communities.
Let us focus on tracking your assets, so you can focus on saving lives.
Call our toll-free number 866.514.7653 for a demo today, or fill out our form. We'll contact you soon!
"*" indicates required fields